Johan Nurminen started the family company's long business tradition by founding a general store in the town of Rauma in 1886. The shop's goods also included timber and chandlery. The company gradually expanded into the shipping and forwarding business. Uljas, the first ship owned by the company, was built in 1891.
As operations reached an international level, the head office was relocated from Rauma to Helsinki. The company's shipping business was at its height in the late 1950s, after which the importance of the shipping business diminished and resources were concentrated into international forwarding and transports.
In 1964, John Nurminen started operations at the Helsinki airport, thus becoming the first company in Finland to provide air freight forwarding. Around the same time, the company built the first warehouse of its own in Helsinki's West Harbour. In 1967, the last of John Nurminen's ships, Pirkko Nurminen and Inkeri Nurminen, were sold.
Throughout the 1980s and 1990s, the company increased its presence in international forwarding. In 1995, John Nurminen gradually started abandoning traditional forwarding and focusing on special logistics. In the beginning of the 2000s, the company grew through acquisitions in the Baltic Sea area. MatkaKaleva, which used to be Finland's largest private business travel agency, was also for a long time part of the John Nurminen group. MatkaKaleva's business operations were sold in 2001.
On 1 January 2008, John Nurminen Oy demerged into two companies, Nurminen Logistics Oyj and the newly-founded company John Nurminen Oy. Among the business units of the former John Nurminen company, rail services, cargo handling and value-added services, customs clearance services, special and heavy transports and healthcare logistics were transferred into Nurminen Logistics, which went public on the NASDAQ OMX Helsinki on 1 January 2008.
John Nurminen continues to take advantage of its long business history and entrepreneur-oriented values both in the management of its subsidiaries and its private equity investment activities.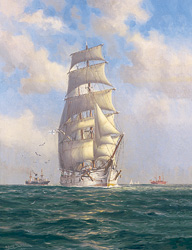 Barquentine Uljas, the first ship owned by John Nurminen